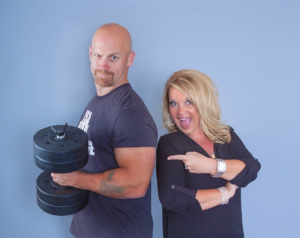 Bob & Andreja Scanland, have been helping people lose unwanted body fat & build lean muscle for the past 6 years. They embarked on their journey starting with themselves and using a Nutritional Cleansing & Replenishing program through Isagenix, and completely transformed their lives!! Andreja started on the program and lost 6lbs of body fat in her first few days and went on to lose a whopping 67lbs!! and has kept the weight off for 6 years! Bob got on program shortly after, releasing 13lbs of fat in his first week and went on to put on 32lbs of lean muscle.
With results like this they couldn't help but get FIRED UP and align themselves with number 1 income earners, Herb and Patty Cepeda and a company that is Isagenix! They also couldn't help share their story with others and decided to embark on their first and only NWM business, creating a 6 figure income in less time than most people do in a lifetime!
Dedicated to help others lose body fat, build lean muscle and create residual income, (creating 3 six figure income earners on their team) it has become a pleasure to watch other peoples lives TRANSFORM Physically & Financially!
 Congratulations, Isagenix Millionaires No. 145!
Nine years ago, Andreja and Bob spent $900,000 to pursue their dream of opening a restaurant. They sold every real estate investment they had and maxed out every line of credit to turn their vision into a reality—a dream that would ultimately leave them bankrupt. "We had nothing in the bank, and it would take a few years until we recovered," says Andreja.
So, when this husband and wife duo met Isagenix Millionaires Herb and Patty five years ago, it was understandable why they initially rejected the idea of starting another business with Isagenix.
Having an Open Mind
"The only word that came to mind during that conversation was 'debt,'" laughs Andreja, "but I was desperate to release unwanted weight and was open to giving the products a try, That was a light-bulb moment for me," she says.
When Patty shared how Andreja could get her products paid for, Andreja became more open-minded to learning about building an Isagenix business.
The following month, after sharing the business opportunity with her husband and her mom Ivanka, Andreja started to tell others about her Isagenix experience. Over the next few weeks, she had five new people join her team who all experienced amazing results. The amount not only covered the cost of her products but afforded these restaurateurs a little extra spending money.
"My ears perked up when Andreja told me just how much we had made," laughs Bob. "That's when I decided to really look into the opportunity and began helping her build the business."
The Power of Love
When Bob stepped in, he decided to join the IsaBody Challenge® with the goal of building lean muscle. He also knew that he could use his IsaBody™ transformation as a business marketing tool and that having his own story would open the doors to a much broader audience—those looking for more than just weight loss. Bob hit the gym every day at 10:30 a.m.—before the restaurant lunch rush. His strategy proved true. Not only did he gain 8 pounds* of lean muscle, but he was also named a 2014 IsaBody Challenge Top Achievers Finalist. Most of all, he was helping to motivate and inspire his wife.
"My advice to anyone just starting out would be to free yourself from judgement, and the rest will follow," says Bob. "If only we knew that then…"