Stay-at-Home Mom Rescues Family Finances and Takes Control of Health With Isagenix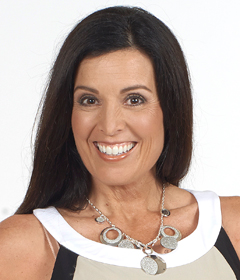 Angela R.
Location: Nine Mile Falls, Washington
Age: 49
Height: 5'4"
Was: 200 lbs
Lost: 61 lbs*
Angela R. is a stay-at-home mom who was uncomfortable in her own skin and struggled to help her family financially through a down economy. Today, she feels amazing and her business with Isagenix® is thriving.
Isagenix wasn't Angela's first attempt at a weight-loss program. She tried several advertised solutions but was only left with the same problems. During a medical appointment for her son, Angela noticed an Isagenix canister in the corner of the room. The specialist suggested the products for her son, who suffers from a chronic illness.
"The specialist told me my son would greatly benefit from Isagenix and as we were leaving she said one of the side effects is lasting weight loss," said Angela. "And I said, 'Great, I'll take two!'"
 An Immediate Change
Angela started with the 30-Day Cleansing and Fat Burning System and within a few days noticed a change in the way she felt. She quickly upgraded to the President's Pak. After countless attempts with other weight-loss programs, she knew she was on to something with Isagenix.
"It was something I had never experienced, and it kept getting better each day," says Angela. "The toxic weight was releasing and I just started to have all sorts of energy. I guess you could say I was 'finding my happy' again."
Competing for the Next Level
Her rapid success was just getting started. Angela wanted to see just how far she could push herself. So she entered the 2012 IsaBody Challenge® and lost an extra 21 pounds* to finish seventh in the contest. In addition to her hard work, Angela relied on mental toughness and focus to stay on track. During any weight-loss program, it's easy to lose sight of the big picture and Angela made sure to keep her eye on the prize.
"I think the challenges I faced came in the form of mindset," says Angela. "Seeing success so quickly in the beginning…it was easy to get lazy about how I was following the program because it just happened so easily. I had to remind myself that Cleanse Days weren't just to lose weight from a few days of splurging but to rid the toxins from my body. And that the real weight loss really comes from the day in, day out Shake Days and just making precise, healthy choices for my plated meals, and of course getting exercise in and moving my body daily."
Taking Financial Control
It wasn't just physical health Angela gained from using Isagenix; she found financial freedom as well. Angela and her husband owned a construction business that was failing due to the poor economy and their home was facing foreclosure. Angela was lucky enough to be a stay-at-home mom for 21 years, but as the finances hit a wall, she wanted to contribute for her family.
"I focused on making a difference with my Isagenix business, and ultimately due to our income with Isagenix our mortgage company allowed us to do a loan modification instead of foreclosure to keep our family home," says Angela.
At first, the residual income from her business paid for bills like medical payments for her son or car insurance.** But after some time, Angela and her family were able to see true financial freedom in their future thanks to her success with Isagenix. She is now a 1-Star Golden Circle, Crystal Executive and works hard to keep improving every day.
"I don't sit on the sidelines of my life anymore. I take chances and meet new people and I try new things," says Angela.
The individuals pictured are actual Isagenix Associates and not paid models.
*Weight loss should not be considered typical. In a study performed in 2012 by University of Illinois at Chicago researchers, subjects lost an average of 9 pounds with an average of 2 pounds of the loss from visceral fat after 30 days on an Isagenix system. The subjects also had a greater level of adherence and had more consistent weight loss from week to week compared to subjects on a traditional diet.