Isagenix Ultimate Business Builder Pak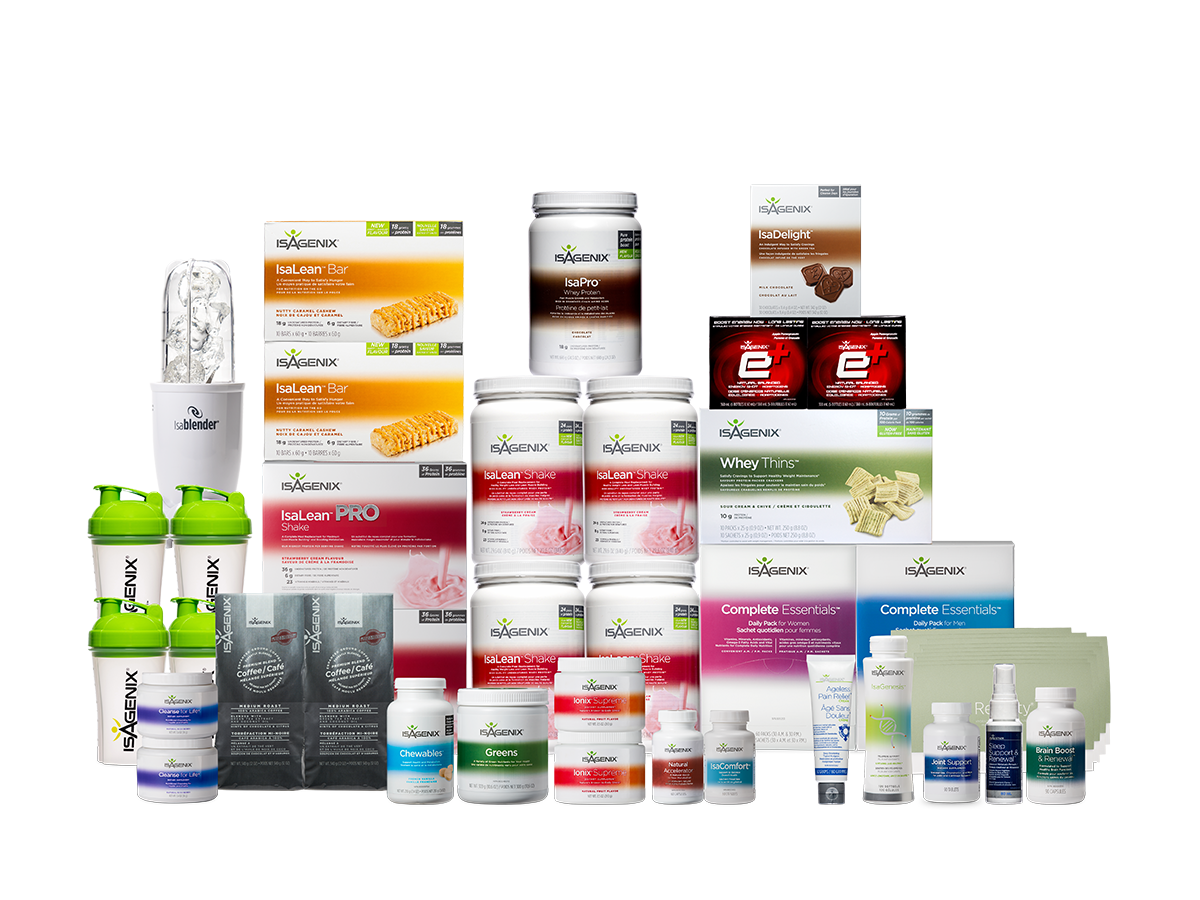 The Ultimate Pack for Growing an Isagenix Business!
You are starting to make a change and commit a healthy lifestyle of healthy Nutritional & Cleansing, the Isagenix Business Builder Pak has everything you need to get a head start on your results. You'll have enough products to get started and keep you looking and feeling great for months. It also includes our healthy super chocolate IsaDelight™, which can help to obliterate your hunger cravings* and boost your mood* every day, including Cleanse Days! 
You will start to experience amazing results in health, weight & energy with Isagenix®, you'll want to share your results with others. For this reason, we have included some of our best marketing tools so you can begin to build your own Isagenix business and grow financially as well as health. You'll learn the financial rewards of helping others to lose weight and reach their optimum health.
Retail Price: $ 1,697.16
Sign Up and Save Price with FREE membership: $1,202.00 (Save $495!)
30 day money back guarantee on your first order!
You will be taken to Isagenix.com
IsaLean® Shake is one of the core pillars of the Isagenix Cleansing and Fat Burning System. It is a delicious, complete meal replacement with 24 grams of high-quality whey and milk protein, energy-fueling carbohydrates, good fats, filling fiber, and a full array of vitamins, minerals, and enzymes packed in under 300 calories per shake. When used as part of a system, this clinically tested, low-glycemic meal keeps you feeling full longer and helps you lose unwanted fat while maintaining your lean muscle.

This delicious proprietary formula, available in both IsaLean Shakes and Soups, delivers dense nutrition. Replacing two meals a day with an IsaLean Shake while on an Isagenix Cleansing and Fat Burning System enables you to easily reduce your caloric intake without sacrificing nutritional needs. IsaLean Shake helps form the foundation of your weight-loss program, and once you've reached your weight-loss goals, replacing one to two meals a day will help you maintain your weight and performance.
Cleanse for Life® is neither a laxative nor a diuretic, but rather a whole-body nutritional cleansing drink formulated with natural ingredients shown to support your body's ability to cleanse toxins that cause oxidative stress. Cleanse for Life is essential for Cleanse Days, but can also be enjoyed as an everyday drink, and provides the nourishment, antioxidants, and support for healthy detoxification.

These chocolate, vanilla, or berry wafers contain a perfect balance of nutrients in minimal calories. Isagenix Snacks™ offer support on Cleanse and Shake Days by helping take the edge off hunger just enough to banish cravings.

This daily proprietary Adaptogen-rich concentrate was designed to normalize and balance your body's systems and support its ability to combat the effects of stress. Taken daily and as part of Cleanse Days, Ionix® Supreme promotes overall health, sharpens mental focus, and quickens recovery.

A flavorful energy boost with a scientifically supported blend of botanicals formulated to help you feel refreshed, energized and mentally alert. e+ is infused with a host of healthy ingredients to fire up your athletic performance without artificial colors, sweeteners or flavors.

A natural system reboot: Combines 200mg of magnesium with gentle and effective cleansing herbs and minerals to aid in digestive regularity and improved overall health. A balanced digestive system improves the body's ability to absorb nutrients and eliminate waste.

Natural Accelerator™ naturally aids the body's metabolism to help you burn fat without the "jitters."

Features chlorella and spirulina. Antioxidant-rich ingredients, like ginkgo biloba leaf, green tea extract and grape seed extract, help fight free radicals, which can potentially endanger cells and weaken your immune system.

A foundational product for your best health and longevity. This 30-day supplement includes superior healthy aging and whole-body nutritional support. Featuring the newest 4th generation of Product B for greater cellular and telomere support, plus a full spectrum of vitamins, minerals, omega-3s and antioxidants for complete nourishment.

At last, a savory and filling Isagenix snack with 10 grams of protein in 100-calorie packs. It's time to ditch the chips and start snacking smart. Get ready for a savory pizazz that will make your taste buds jump for joy. Introducing Whey Thins, the filling, protein-packed crackers that support weight loss. Whey Thins comes in delicious Barbecue and delectable Sour Cream & Chive flavors. Whey Thins brings you 10 grams of protein with only 100 calories per single-serving pack, so you can conquer hunger and curb cravings.

Individually packaged chocolate with green tea extract, amino acids, and antioxidants to help satisfy cravings.

One of the most effective and complete multivitamin and mineral options on the market. A daily dose of the A.M./P.M. packets costs just $2.30 and helps protect you from the effects of aging while providing the best in total-body support.

IsaPro contains 18 grams of high-quality, undenatured whey protein concentrate. Available in Vanilla and NEW Chocolate.

This specialized nutrition is great for athletes, active people and teens who want to gain muscle and for those trying to break through weight-loss plateaus, lose stubborn belly or harmful visceral fat. It's also beneficial for older adults who want to prevent age-related muscle loss. IsaLean PRO Shake contains a high concentration of branched-chain amino acids to naturally boost muscle growth and maintenance while helping speed post-workout recovery.

A foundational product for your best health and longevity. This 30-day supplement includes superior healthy aging and whole-body nutritional support. Featuring the newest 4th generation of Product B for greater cellular and telomere support, plus a full spectrum of vitamins, minerals, omega-3s and antioxidants for complete nourishment.

Stay calm and improve concentration with t+ Chai, an Adaptogen-rich "tea with benefits." Each snap pack offers a delicious chai-flavored black tea concentrate containing a soothing blend of Adaptogens, called Adapto+™, which help calm the mind, provide balanced mood and clarity.

Reach for Isagenix Pain Relief Cream at the first throb of pain for immediate and long-lasting relief. Then, use triple-action Isagenix Joint Support™ to soothe joint flare-ups and protect and rejuvenate overworked cartilage.* Isagenix Pain Relief™ Cream combines natural menthol and methyl salicylate to provide cooling and immediate relief followed by deeper heat that helps relax sore, tense muscles. Isagenix Joint Support™ provides advanced triple action support through natural nutrients as well as comforting botanicals to help soothe joint flare-ups while it works to strengthen cartilage.*

Give yourself a great-tasting, nutrient-rich meal you can have on the run! IsaLean Bars are a delicious, easy and perfect for that quick meal on the go. If you're looking for a lower-calorie meal, but don't want to sacrifice taste, IsaLean Bars are an great option.

The proven power of vigorous brain-boosting nutrients combined with a powerful melatonin and nutrient complex spray make the Boost and Sleep Support System an ideal way to achieve restful sleep while supporting healthy brain function. Boost & Renewal™ is a proprietary formula containing a host of brain-friendly nutrients to promote mental focus, concentration, decision-making and memory. Sleep Support & Renewal™ is nightly nutrition for your brain and body in a natural, fast-acting melatonin spray. Supports concentration, decision making and memory. Synergistic benefit: day and night nutrition for restoration of your brain

Feel good, look incredible with Rejuvity, which combines nature and science for the ultimate experience in hydration, illumination and rejuvenation. Our products work synergistically to invigorate the skin.

4 16 oz. IsaShaker

Easily blend delicious IsaLean® Shakes when you are on the go! Easy to carry, easy to use, easy to clean.

Updated with all of the newest and best before and after photos including the latest IsaBody Winners and Finalists. This 4-color, 80-page spiral bound book features all of the best Isagenix before and after photos and stories, conveniently divided into weight loss, healthy aging and energy and performance categories. This book will be one of the most powerful recruiting tools in your tool box!

1 IsaBlender®

The Isagenix Blender (IsaBlender®) Its powerful 250-watt motor, multiple blades, convenient style and easy clean up capability make the IsaBlender™ the must-have accessory for whipping up your IsaLean® Shakes to pure perfection.

1 Free one-year membership

2 Welcome Kit

1 $100 Isagenix event certificate

1 Business Pak Tool Kit

You will be taken to isagenix.com
The Isagenix Business Opportunity
If you choose to purchase from Abundant Energy you will receive access to member-only Facebook groups, the latest product and business information, unlimited help via phone or email and invitations to local events.
Please note the Isagenix commission program is optional. You can enjoy the benefits of using the Isagenix products without selling them, The Isagenix Business opportunity is optional and you won't be pressured to sell the product in any way.
A Unique Business Opportunity with Isagenix!
Did you know you can make a substantial living from Isagenix? Bob and I are multiple 6 figure income earners just with Isagenix. It is possible for you also just by sharing the Isagenix program with your family and friends then building on your success, you'll be eligible to collect huge bonuses! For more information please don't hesitate to contact us. 
Have more questions or need help? Contact us below and we will get right back to you!