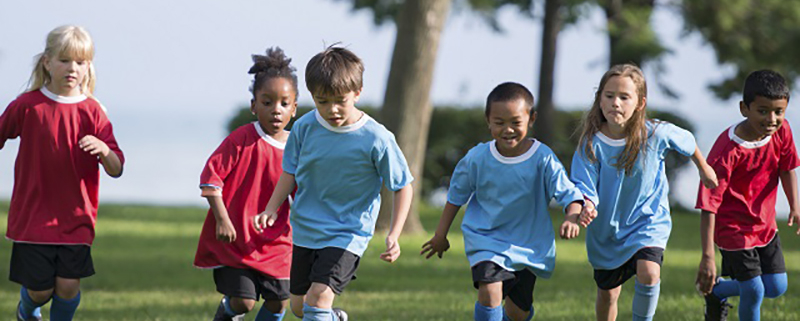 by Andrea Frank Henkart, M.A.
Training and skill are important in whatever sport your children play, but eating right on game day is their secret weapon for keeping their favorite sports safe and fun. That's why they need a nutritional game plan. Parents know that eating well increases energy, endurance, and the ability to concentrate, both on and off the field. Make sure your kids are getting the proper nutrition they need before, during, and after their practice or game.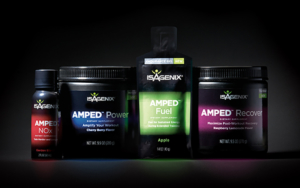 To enhance their game even more, there are a few products in the AMPED™ Performance System that are approved for kids. This system offers a comprehensive mix of nutrients, energy boosters, and high-quality protein for muscle growth and recovery while helping them experience optimal performance. Because this system was designed specifically for athletes, Isagenix recommends that you always check with your child's physician before starting an exercise regimen and before starting use of any dietary supplement, including AMPED products. You can rest assured, like all Isagenix products, AMPED comes with the Isagenix no-compromise quality that guarantees safe ingredients without any artificial flavors, colors, or sweeteners.
The effectiveness of AMPED products depends on nutrient timing—meaning when you take each product throughout your workout or game. There are three windows for taking the products—pre-, mid-, and post-workout where AMPED products are designed to help deliver results.
AMPED NOx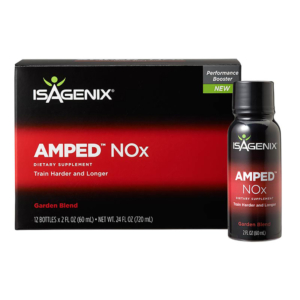 Taken before a workout, AMPED NOx supports nitric oxide production, supporting blood flow and oxygen delivery to cells. With a special blend of fruit and vegetable extracts, including beets, celery, and red spinach, this performance booster helps to increase power output, optimize muscle efficiency, and reduce fatigue.
30 calories per serving
Perfect for athletes and anyone looking to improve intensity and stamina
For ages 12+
Intense physical activity can mask feelings of thirst, making it especially challenging for active children to drink enough water. AMPED Hydrate (formerly called Replenish™) can be used throughout practice or workouts to help prevent fatigue and dehydration. It's a refreshing sports drink that rehydrates and re-energizes the body for performance, and replaces nutrients and electrolytes that can be lost during exercise.
35 calories per serving
100 percent RDA of Vitamin C plus a full B Complex
Glycogen blend of fast-absorbing carbs for performance
No artificial flavors, colors, or sweeteners
Great for kids ages 4+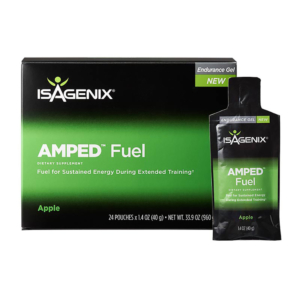 AMPED Fuel
A conveniently packaged, easily digestible gel delivers ready-to-use, mid-workout energy. AMPED Fuel is a perfect, transportable option for young athletes, which helps to energize muscles for greater endurance and speeds recovery. Muscles also need branched-chain amino acids (BCAAs) during extended exercise to offset breakdown. Fast-acting fuel is crucial for maintaining peak performance for the young competitive athlete.
Refuel with the right balance of fast-acting carbohydrates from apple puree, agave, and molasses
22 grams of energy-fueling carbohydrates
No artificial flavors, colors, or sweeteners
For ages 16+ (Note: The key ingredient in AMPED Fuel that raises the age limit to 16+ is a moderate dose of BCAAs. However, Isagenix understands that many parents may feel perfectly comfortable giving their children moderate doses of BCAAs as they are indeed natural components of protein.)
Kids, in general, have a lot of natural energy and their bodies tend to recover quickly. Therefore,AMPED Power and AMPED Recover are not always necessary to keep your young athlete at the top of their game.
Good nutrition for physical activity can result in optimal health and exercise performance, regardless of whether your child is recreationally active or a competitive athlete. Combining good nutrition and exercise can also help with weight management. Remember, dietary supplements are just that, supplements to food. Make sure your kids always have fresh water available, provide them with healthy pre-exercise meals and snacks, and if they need to supplement, fuel their bodies with AMPED,the supplements you can trust. Most important of all, make sure your kids are having fun!
About Andrea Frank Henkhart
Andrea Frank Henkart has two teaching credentials from UCLA and a master's degree in family psychology. She is a certified holistic health educator, certified nutritional counselor, and an internationally recognized expert in family health. The author of eight books, including the bestseller, "Isagenix for Healthy Moms and Kids," Andrea has been featured on hundreds of radio and TV shows internationally, including Oprah. A proud mother of two adult children, Andrea is passionate about helping families create health and harmony at home.
//abundantenergy.ca/wp-content/uploads/2016/04/isagenix-amped-for-kids.jpg
500
800
Corey
//abundantenergy.ca/wp-content/uploads/2016/04/abundant-energy-logo-black.png
Corey
2016-04-21 16:39:39
2016-04-21 16:44:45
Energy & Nutrition for Young Athletes